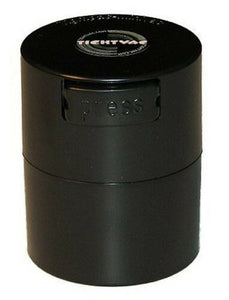 Tightvac Minivac Container Black
Air Tight

Water Resistant  

Smell Proof

.12 liter 2-7/8"tall x 2-5/16" diameter.
Here they are folks. The discreet and stylish little containers that are taking America by storm. Perfect for herbs, spices, snacks, vitamins, jewelry, candy and anything else you can think of. These top of the line airtight containers keep whatever you put in them fresh and dry. A simple push of the button and the vacuum seal is released and the top comes right off. Made of high impact plastic and super durable. The Minivac is great for travel or that outdoor adventure they even float.