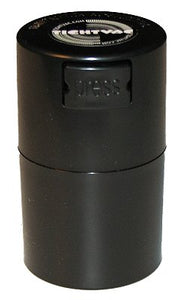 Tightpac Container .06 Liter
Air, Smell & Water Proof


Great For Keeping Medicine, Herbs & Coffee 

Fresh

Solid Black Body

Size - .06 Liter 3" X 1 5/8"

Store your favorite blends in these air, smell and water proof containers. These sealed containers are lightweight and functional. Great for storing everything from spices to your loose change. Closing the lid keeps the air out and the freshness in. A simple push button release of the air and the cap comes right off.